FIBC Bulk Bag Industries that we Proudly Serve
Storing and transporting any product can be difficult. If you are storing and transporting a food grade product, you must mitigate increased regulations as well as the possibility of food contamination. Even if your product isn't food grade, you are constantly trying to prevent moisture exposure, rodent and or pest contamination, damage to your container that causes leaking and loss of product, and a myriad of other potential issues that can damage/ruin your product and eat at your profitability. No matter what you use to transport your product, it's extremely important to use a container that:
Best suits your operation
Creates the most successful storage and shipping process for your business
Streamlines the process and experience for your customer
At National Bulk Bag, we believe that whether it is in our best interest or not, we want to make sure that you are using the best storage and transportation option for your business, product, and application. Below are some industries both food grade and not that we commonly serve. Each industry is accompanied by in-stock bulk bags that were hand picked by our FIBC experts. Don't hesitate to reach out if you have any questions or would like to talk to one of our experts!
Find your industry in the list below and click the link to see suggested FIBC bulk bags handpicked for you by our FIBC experts:
Guide to Purchasing Bulk Bags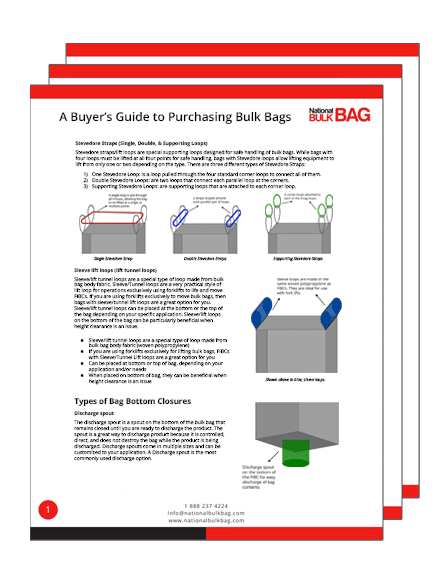 It's our mission to make your bulk bag buying experience easy, informative, and enjoyable. We also want to share our knowledge with you so you can make the best purchasing decision for the company you represent. Our Buyer's Guide to Purchasing Bulk Bags includes critical information ranging from types of FIBCs to important safety information about handling and transportation.
Click the button below to download our Buyer's Guide to Purchasing Bulk Bags.