Woven Polypropylene Bags for Your Application
When referring to woven polypropylene bags (WPP bags) we wouldn't blame you for thinking of FIBCs (flexible intermediate bulk containers), which are also made of woven polypropylene. However, WPP bags are also common in the agriculture industry in a variety of different sizes to accommodate industry needs. Typically smaller than FIBCs, woven polypropylene agricultural bags still bring great benefits to the table.
WPP bags are lightweight, strong, and breathable packaging material designed for carrying a variety of agricultural materials. Some WPP bags have additional venting to allow maximum breathability. Common industry applications include grain, feed, seeds, and beans.
The most common sizes for agriculture are 25lb and 50lb weight capacities and are able to accommodate custom prints in high quality (however, not photo quality like BOPP).
Woven Polypropylene Bag Stock, Product Options, and Availability
Woven polypropylene fabric brings several advantages to the table in the agricultural space. It is a lightweight and strong material, can be fully custom printed on, is naturally breathable, and can be fully customized to fit the filling and/or discharge equipment at your facility.
National Bulk Bag stocks generic options for a variety of WPP bags. We also provide a fully custom ordering system for WPP bags and options include:
——— In-Stock ———
WOVEN POLYPROPYLENE BAGS OFFERING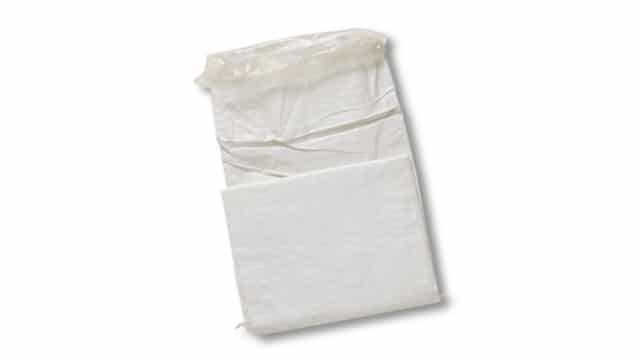 WPP White Bag Plastic Collar
Produce Bags and Packaging
National Bulk Bag keeps a large inventory of in-stock options to fulfill your stock needs in a pinch. We know that supply concerns are among the top pain-points for our end users and are working tirelessly to keep inventory levels up. On top of that, we have fantastic relationships with our manufacturing partners and can specifically design a custom bag for your product and/or application. Global supply chains have been greatly strained by the pandemic, so ask us about lead times.
Full Spectrum Agriculture Supplier
National Bulk Bag isn't just a FIBC supplier, we carry a full spectrum of agriculture produce bags. We can be your one stop shop from the farm and/or production facility to the consumer store.
Produce Bag Experts
Our staff has been serving this industry for many years and is extremely knowledgeable across the entire produce bag spectrum. We don't just sell these bags – we visit our customers facilities, look for solutions, and apply our knowledge in the products we distribute. We will work with you and your team to find the right bag for your product and application.