75+ DIFFERENT TYPES OF FIBC BULK BAGS IN-STOCK
With 75+ types of Flexible Intermediate Bulk Containers in-stock, we are prepared to meet your immediate needs. If we don't have the exact FIBC that you need in stock, we'll have something that is close to tie you over until we can manufacture a bag that meets your exact specifications. Many of our customers are introduced to us through our extensive offering of stock bags, and then transition to a custom bag which we manufacture.
With warehouses in California, Oregon, Minnesota, New Jersey, and North Carolina, our bags are ready for same-day shipment.
Browse our in-stock FIBCs by clicking on the images below, or you can download our in-stock list in PDF form by clicking the "Download In-Stock Bag List" button on this page .
DOWNLOAD OUR IN-STOCK LIST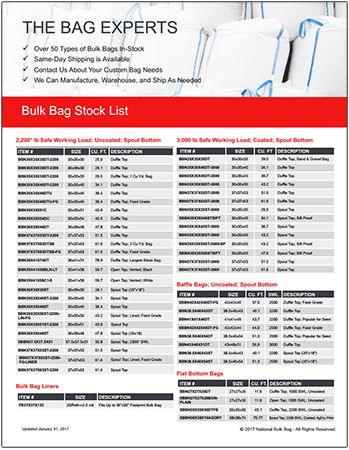 We stock one of the largest FIBC bulk bag inventories in the United States. We carry a wide variety of sizes and specifications which are available for same day shipment. If we don't have what you need in stock, contact one of our FIBC experts about designing and manufacturing a custom bag to fit your needs.
Click below to download our in-stock FIBC list – available for same day shipping!
VIEW OUR IN-STOCK FIBC BULK BAGS BELOW, READY FOR SAME-DAY SHIPPING