Burlap Bags for Your Application
Burlap bags (burlap sacks) are almost synonymous with the potato industry. An industry classic they remain popular across the entire agricultural industry. However, as alternative products have entered the market, their popularity has begun waning in recent years.
Burlap Bags Stock, Product Options, and Availability
National Bulk Bag can provide generic burlap bags on-demand. On top of generic bags, we have the ability to create custom prints on burlap. Sold in factors of 500, we have 50lb. and 100lb options.
Our most popular bag is a 50lb. 20" x 31" 7 oz. burlap bag and is sewn closed. The SKU for this bag is BN32C43NF.
Uses and Advantages of Burlap Bags
Burlap bags are still a fantastic fit for the potato industry as they allow the product to breath during storage and/or transportation – helping fight off molding and rot. They are 100% biodegradable making them more environmentally friendly than other alternative products.
Common industry applications outside of potatoes include onions, corn, and seed.
——— In-Stock ———
BURLAP BAG PRODUCE PACKAGING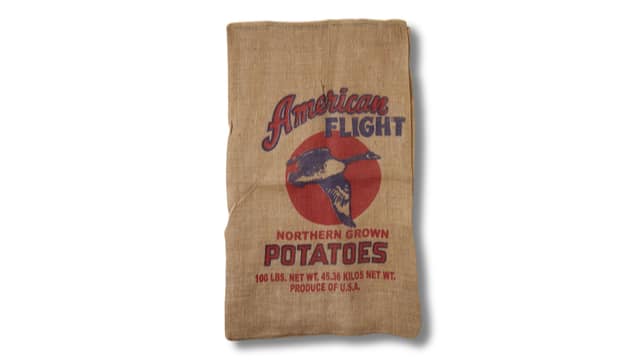 BN32C43NE 100# Burlap Bag
Produce Bags and Packaging
National Bulk Bag keeps a large inventory of in-stock options to fulfill your stock needs in a pinch. We know that supply concerns are among the top pain-points for our end users and are working tirelessly to keep inventory levels up. On top of that, we have fantastic relationships with our manufacturing partners and can specifically design a custom bag for your product and/or application. Global supply chains have been greatly strained by the pandemic, so ask us about lead times.
Full Spectrum Agriculture Supplier
National Bulk Bag isn't just a FIBC supplier, we carry a full spectrum of agriculture produce bags. We can be your one stop shop from the farm and/or production facility to the consumer store.
Produce Bag Experts
Our staff has been serving this industry for many years and is extremely knowledgeable across the entire produce bag spectrum. We don't just sell these bags – we visit our customers facilities, look for solutions, and apply our knowledge in the products we distribute. We will work with you and your team to find the right bag for your product and application.