FIBC Liners For Every Product & Application
FIBC bulk bags are fantastic solutions for transporting and storing large quantities of product safely and efficiently. They are commonly used in numerous industries including but not limited to agriculture, chemical, pharmaceutical, pet food, as well as metals and mining. In many of these industries, a bulk bag is not enough and needs to be paired with a FIBC liner. The features that are attained by using FIBC liners are:
This powerful combination is often used for food grade products and very fine powders. FIBC liners are inserted into each bag and work with both duffle top and spout top bags. FIBC liners can also be made with attachment tabs which allow the liners to be sewed, tied, or glued to the bag removing the chance of the liner discharging from the bag. The four most common types of bag poly liners are:
At National Bulk Bag, our FIBC specialists know that every customer and application is unique and they are ready to work with you to determine what liner is right for your specific application. Below are the four most common types of FIBC liners accompanied by brief descriptions and common applications. Don't hesitate to reach out to our experts if you have any questions. Contact us by clicking here and filling out the form or give us a call at 1.888.237.4224.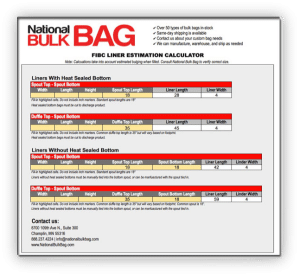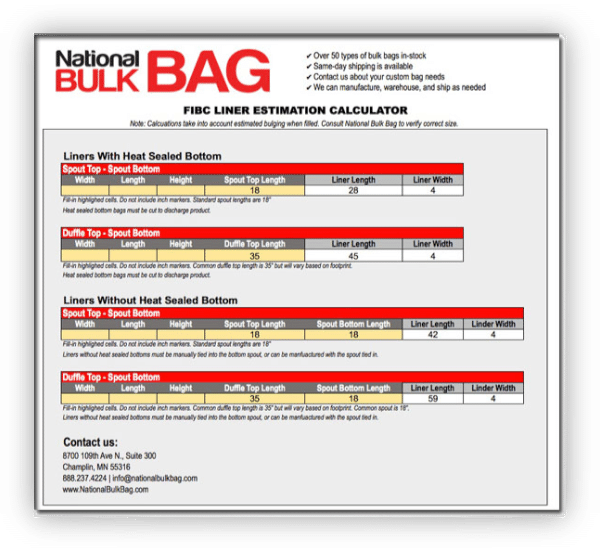 Download Liner Calculator
Finding the right polyethylene liners for your products and applications can be difficult. Not only is it important to determine the right type of liner for your product and applicant, it is imperative that you also determine the correct size of liner for the specific bag you are using or interested in.
To accurately determine what size of polyethylene liner is right for the duffle top or spout top bag you are using or are interested in, click the button below to download our FIBC Liner Estimation Calculator.
Lay-Flat Polyethylene Liners
Lay flat polyethylene liners are the most common type of liners. They are cylindrical in shape, open at the top, and the bottom is often heat sealed. If the liner is heat sealed it must be cut to discharge the product. Lay-Flat polyethylene liners can come already inserted in the bag or can be purchased by the roll.
Form-Fit Polyethylene Liners
Form-fit polyethylene liners are specifically designed to take the exact form of the bag including the spout inlet and outlet. Form-fit liners improve the bags performance and protect the product packed from contamination during processing, storage, and transportation.
These liners also allow for a consistent fill and discharge of products because they do not have folds, pleats or other traps to slow down product flow. These liners can either be permanently attached to the bag or easily removed after each use.
Baffle Polyethylene Liners
The form-fit baffle design can provide superior package performance and, at times, reduce storage and shipping costs. The baffle liner is form fitted to the FIBC and makes use of internal baffles to maintain a square shape and prevent bulging of the bag. The square shape of baffle poly liners can also help save space on pallets and in trucks. Some other features of baffle liners include:
Aluminum Foil Liners
Form shaped aluminum liners, also known as foil liners, improve filling, discharging, handling and stability of the outside of the bag. Foil liners offer great moisture, oxygen, and UV protection and are compatible with a wide variety of bulk bags.
FIBC foil liners are made of aluminum-laminated films that protect the quality and the integrity of the product that is packed in the bag. Each foil liner can be manufactured using various aluminum compounds depending on the specific needs of each application. Some other features of foil liners include:
To determine what bag poly liner is right for your unique application, click here to fill out our contact form or give us a call at 1.888.237.4224 to speak with one of our FIBC experts. Our bulk bag specialists have over 20 years of industry experience and are ready to work with you to create a custom FIBC bulk bag solution for your business.
In-Stock Liners & Bulk Bags with Liners
FIBC Liner Educational Resources